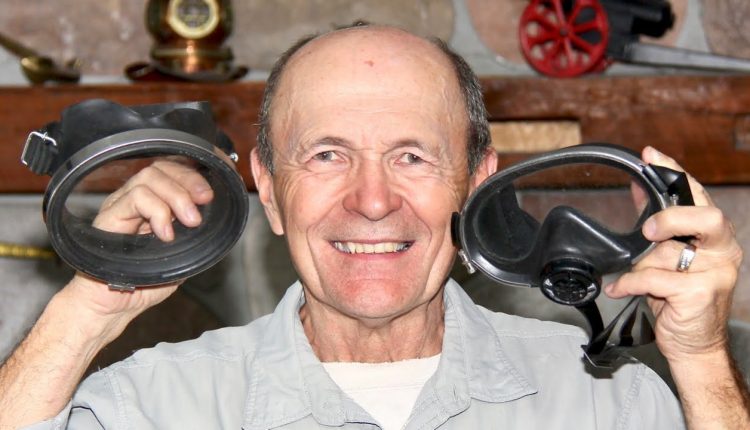 Vintage Scuba: Problems Equalizing Old Masks – S04E15


Every modern mask today has a low volume, easy to hold nose pocket for quick ear equalization. Alec shows how early masks evolved and tried many ways to equalize before the todays nose pocket became the standard.
*** In this episode of Vintage Scuba ***
– a 1949 or 1950 "Charlie Sturgill" hand-made mask from a rubber fire hose with no easy way to equalize or clear
– one of 3 Sturgill masks still in existence out of about 40, $6.00 for round, $8.00 for oval
– Swimaster oval mask with a hard rubber skirt against the face
– 1960 Swimaster "Wide View", big purge valve, rubber body and foam neoprene sealing sealing skirt against the face
– 1961 "Aqua-Lung" with wrap around glass, dual purge valves, two nose pockets, needed two hands to squeeze
– 1963 "Max-Vue" Nemrod by Seamless with wire nose pinchers, purge valve added with outside wire clips to squeeze your nose
Viewers have asked about the "stuff" behind Alec, so he picked one item and talks about his collection of "farm lightning arrestors".
SCUBA TECH TIPS playlists
▶︎ Series 7:
▶︎ Series 6:
▶︎ Series 5:
▶︎ Series 4:
▶︎ Series 1, 2 & 3:
VINTAGE SCUBA playlists
▶︎ Series 4:
▶︎ Series 3:
▶︎ Series 2:
▶︎ Series 1:
SEA HUNT REMEMBERED playlists
▶︎ Series 2:
▶︎ Series 1:
▶︎ SEA HUNT COLLECTOR website:

Rating: 4.94