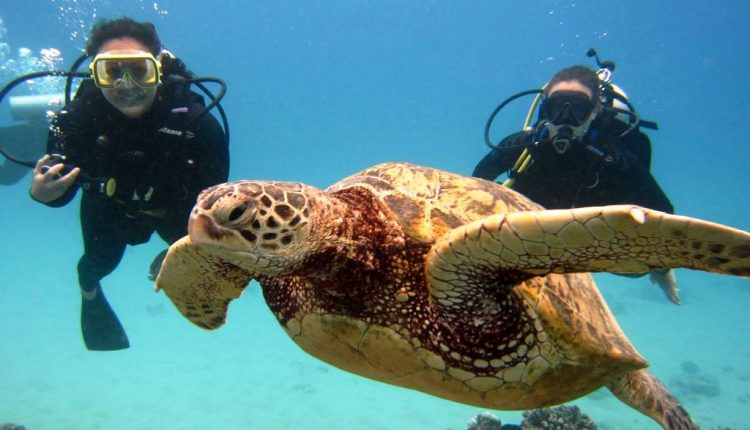 Experience Amazing Underwater Sights in Hawaii
Hawaii is the most recent member of the 50 states that make up the modern day United States of America, and it consists of 8 large islands and hundreds of small islands and islets, which stretch out over 1500 miles of the Pacific Ocean. Hawaii is considered to be a tropical paradise and it is a favorite destination for vacationers, honeymooners, surfers and those looking to indulge in their favorite pastime of scuba diving.
Diving Opportunities
For those people who love to scuba dive there is no shortage of stunning areas in and around many of the most populous Hawaiian Islands, and there are plenty of dives to suit all ages and abilities. As well as those looking to save money by indulging in beach scuba diving, there is also the chance to take a charter dive boat. A lot of people who visit Hawaii for the exclusive purpose of diving opt for the choice of hiring a charter boat, as being able to dive off shore opens up more opportunities to witness some of the areas stunning marine life and scenery.
The Islands
One of the best locations can be found on Molokai Island. This island is known as 'old Hawaii' and it is a lot different to the bright lights and hustle and bustle of the more popular tourist areas such as the main island.
The island of Kauai is known for its acres of forest and many varieties of tropical flowers, and is known locally as the 'garden island'. This island is popular with scuba divers from across the globe as it gives them the chance to see some of the endemic marine life that can only be found off the coast of this island.
Maui is one island that thrives on the popular diving industry, and it is home to a plethora of shops, dive schools and charter boats, and everything else that the scuba diving enthusiast needs.
Hawaii is known locally as the 'big island' and this is to help to differentiate the island from the state of the same name. Here, it is a busier with tourists, although there are still plenty of quiet and tranquil scuba diving areas to be found, especially on the leeward side of the island in the Kona district. People love scuba diving in this area as it gives them the chance to explore the undersea lava formations, as well as all of the unique marine life such as green sea turtles, manta rays, whales and dolphins.
Nelly Bee