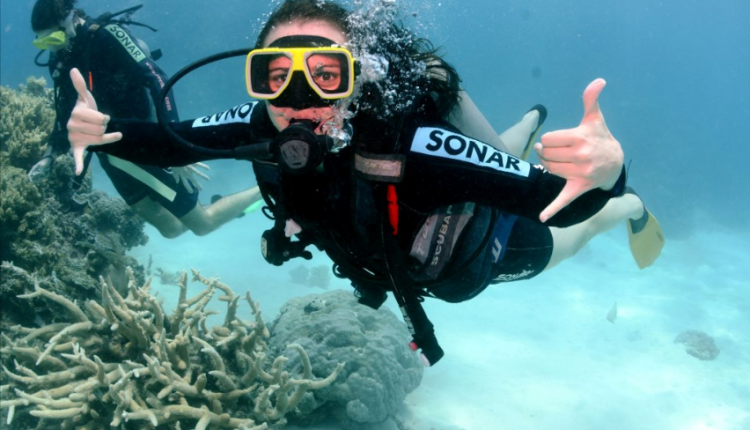 Australia's Adventurous Scuba Diving
Adventurous Scuba diving in beautiful Australia is something that is often desired by many well known divers everywhere throughout the planet for its rich and different experience.
Australia is known for its amazing dive sites and locations and is a divers dream. The coastlines are full of reefs and islands and the entire nation is encompassed by water. With more than 3500 types of fish species and other water life. In Australia you will find everything that you can ever long for in an adventurous dive.
Here in Australia you can scuba dive alongside abundance of fish, shark diving, swimming with whale sharks, dolphins, or simply just appreciate the colourful corals.
Summer scuba diving is quite busy here and you may need to book early on throughout the year and in particular Australia's most popular site – The Great Barrier Reef.
The Great Barrier Reef is the biggest in the world and is one of the Seven Natural Wonders of the World which therefore brings in the tourism for those seeking to witness the reef in all its glory. Snorkelling, kayaking, sailing and glass bottom boats are also popular alternatives to a scuba dive.
Adventurous scuba diving at the Great Barrier Reef is by far the best way to witness, experience and explore its underwater marvels. Clownfish, parrotfish, gropers, cods, angelfish, trout and wrasse are some of the most common types of fish species many of these found on the Outer Reef dive sites as well as some of the Whitsundays Islands.
Apart from the world famous Barrier Reef Australia has so many more dive sites to explore. Ningaloo Reef in Western Australia, Eyre Peninsula in South Australia, Mornington Peninsula in Victoria are some of these just to name a few.
Even in the bustling city of Sydney you can find some great spots to scuba dive which includes Clovelly Bay, a favoured snorkelling spot for many Sydney- locals including myself. Here there are many fish species take shelter in the bay which also includes some massive Blue Groper.
Other popular sites in Sydney include Watson Bay in Sydney's Harbour, Bare Island in Botany Bay, Bass and Flinders at Cronulla, Shelley Beach in Manly plus many more.
Scuba Diving adventures and tours can be taken in all states of Australia – some of which will require your Open Water Dive Certificate while others will cater for non-certified. So ensure that you check with the operator of your choice.
For the more adventurous scuba divers there are a number of other dives available in Australia which includes cage-less shark diving in both Sydney and Melbourne aquariums, cage diving with Great Whites (Jaws) at Port Lincoln in South Australia and swimming with the gentle giants of the sea – Whale Sharks.
You can now even take the plunge into a glass cage in a tank with Australia's most infamous predators; the Saltwater Crocodile. This can be found in the Crocoseum found in the capital of the Northern Territory, Darwin.
For those with more specialised training another adventurous scuba dive would be to take up the challenge of cave diving, These can be found in areas such as the Kimberley, Katherine, Flinders Ranges, Jenolan, the Nullarbor and Cape Range.
For those seeking out sunken ships to explore Australia has this too. The HMAS Adelaide at Avoca Beach NSW, HMAS Brisbane at Mooloolaba QLD and HMAS Swan found at Dunsborough Western Australia.
If you have never tried scuba diving before you are missing out on one hell of an adventure and I implore you to give it a try. Especially here in Australia with so many dive sites and adventurous scuba diving activities.