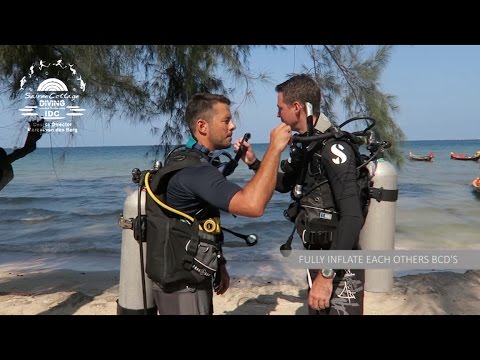 PADI Buddy Check BWRAF PADI IDC & Divemaster Skill Circuit


PADI Buddy Check BWRAF demonstrated step by step during the PADI Divemaster and Diving Instructor IDC course on Koh Tao in Thailand with Sairee Cottage Diving –
The PADI Buddy Check BWRAF is very important to learn for beginner divers and is still important to refresh for experienced divers. Every PADI diver should do a BWRAF Buddy Check before scuba diving to make sure there are no problems with the dive equipment and nothing is forgotten.
In real life we sometimes see people skipping the PADI BWRAF Buddy Check because they think they don't need that anymore, and quite a lot of times they forget things. If someone forgets to wear their weight belt it will most likely be discovered when that diver wants to descent. Now he or she needs to go back to the boat or shore and ask for a new weight belt. This is not the end of the world, but it is a bit embarrassing.
Forgetting to check if the air from the scuba tank is opened correctly is a much more serious mistake to make and the diver can get seriously injured because of that. For this reason it is very important to always conduct a proper PADI Buddy Check before the dive following the BWRAF method and order.
BWRAF stands for:
-BCD
-Weight belt
-Releases
-Air
-Final OK
A great way to remember this is with: Begin, With, Review, And, Friends.
PADI Platinum Course Director Marcel van den Berg teaches his PADI Divemaster and PADI Dive Instructor IDC candidates one of the most realistic PADI Divemaster and PADI IDC courses, giving all the person attention and one of the best quality to ensure your success as a future PADI professional.
If you want to learn one of the most realistic PADI Dive Instructor IDC courses in the world with PADI Platinum Course Director Marcel van den Berg at Sairee Cottage Diving on Koh Tao in Thailand then please visit: and contact me by sending an email here: info@idckohtaothailand.com
Please visit our other website:
Special Thanks:
Josh Clark for filming and editing!
Dive Supply Koh Tao:
Scuba Pro Dive Equipment:
Please "SUBSCRIBE" to our Google YouTube Channel by clicking this link: to stay updated on more PADI Diving Instructor IDC and PADI Divemaster DM Training video's in the future and we are always updating new styles and changes within the PADI system to make sure you become the best PADI professional, best PADI Divemaster or best PADI Dive Instructor in the Dive Industry worldwide.
Please hit the "LIKE" Button if you liked this YouTube video and please leave a comment… And share this with the world by "SHARING" this video with your Facebook or other Social Networks! Spread the word 🙂
I wish you all the best of success in your Diving Career and please check out our Facebook page:
Marcel van den Berg
PADI Platinum Course Director
Sairee Cottage Diving
5-Star PADI IDC Centre
Koh Tao, Thailand

Rating: 4.43