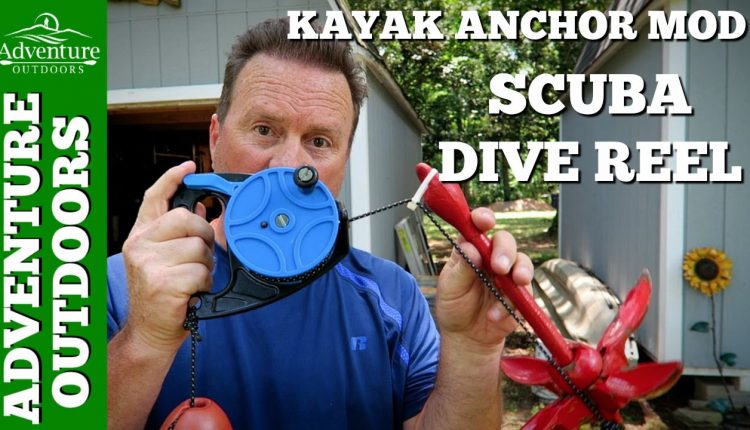 Kayak Anchor Line Storage Mod With Scuba Dive Reel ~ I Like It


I finally found an awesome kayak anchor system that will work on any kayak. You will want to do this kayak anchor mod to simplify the times you use your anchor. It seems like I've been on a long journey to get my kayak anchor system just the way I want it. I have come up with yet another kayak anchor mod that I think is an improvement over my last modification. I don't usually have a need to anchor in deep water so this mod is for relatively shallow waters. I discovered another Youtuber using a Scuba Dive Reel as part of his anchor system. I like what I saw so I found a scuba dive reel on Amazon and made the anchor mod. The Scuba Reel allows you to deploy the anchor line via a thumb lever. You can retrieve the anchor line with a small handle that will reel the line back on. The entire kayak anchor system is small and compact and uses the 3 lb. grapnel anchor that is common among kayak fishermen and fisherwomen.
Here is the Amazon link for the Scuba Dive Reel.
Here is the Amazon link for the kayak anchor system.
Here is a link to my Amazon Store. I recommend each product that I have placed in the store.
If you would like to buy an awesome Adventure Outdoors T-Shirt, click here.
Here is a link to my video showing you how to install an anchor trolley.
Here is a video I made about my kayak anchor setup.
Here is a video I made doing an update to my kayak anchor.
Here on The Adventure Outdoors Channel, I make videos about a lot of different things and I have categorized them into playlists.
Check out my various outdoor adventures video playlists and I hope you enjoy the videos.
Do you have gear you would like me to review? Send me an email from my "About" page and let's discuss it.
If you need to send me something.
Mail:
Steve Sherron
P.O. Box 1456
Monroe, NC 28111
Become a subscriber today and join me, get ready for adventure.
Here is a link to my channel homepage where I have all my content conveniently categorized for your viewing.
Hobie Outback Kayak Videos:
Outdoor Equipment & Gear Reviews:
Kayak Fishing Video Production Tips:
Adventure Travel
Kayak Fishing Adventures
Hiking & Camping Adventures
Here is a playlist of all my hammock related videos.
Cutting Room Floor Videos
My videos may contain affiliate links.
#adventureoutdoors adventure outdoors

Rating: 4.38