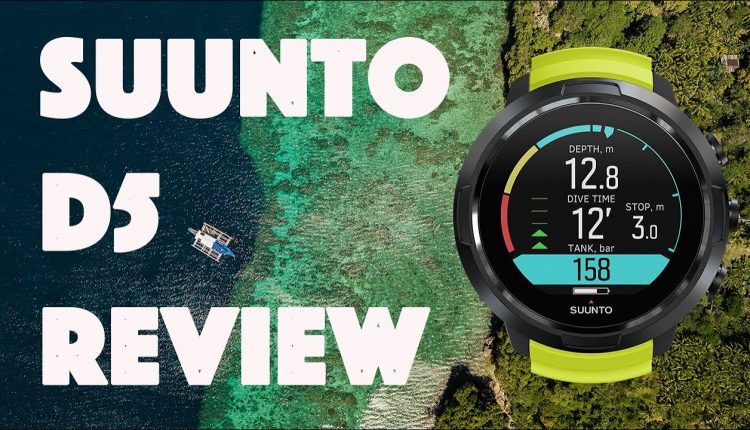 SUUNTO D5 | NEW Dive Computer REVIEW & VLOG | "User Test & Conclusion" in Philippines


Following our trip to Nemo 33 for the launch of the Suunto D5, we were lucky enough to take one of the pre-production units with us to the Philippines to try while we were staying at Magic Oceans in Bohol.
The Suunto D5 is the latest dive computer from Suunto, and packs the same menu functions that can be found on the EON Core and EON Steel, but in a unit slightly bigger than their mainstream units such as the D4 & D6.
The main draw about the D5 is that this unit is a wearable watch, combined with a rechargeable lithium-ion battery, making this a cross between an EON Core and a D6 in our own opinion, but with a whole host of cool new features!
The Suunto D5 comes in 4 main options:
– Black Body/Black Strap
– Black Body/Lime Strap
– White Body/White Strap
– White Body/Black Strap
The white options have the silver bezel on the face.
Weighing in at 90g, and with a depth rating of 100m the D5 will appeal to the recreational diver.
It will take tank pressure readings from 3 pods, and allows the user to customize the unit and perform software updates themselves, and has 18 language options.
The D5 differs from other models in the Suunto range because it has the option for interchangeable coloured straps (sold separately).
User-friendly and quick to remove, the straps can easily be changed for a number of options in the range, including longer straps for dry-suits, NATO style material dive straps, and even leather straps to allow you to wear the D5 as a fully functioning watch when not in the water to give it a different look and feel. We really really loved this feature!
Another big positive is the new algorithm. Suunto has released the FUSED 2 RGBM Decompression Model in the D5, in a bid to improve the dive experience of the user.
This is a huge step forward, and will definitely make this a popular dive computer/watch.
The difference in 'no decompression limits' was significantly noticeable, and will make a huge difference to divers using this product!
The Suunto D5 is available now for pre-order from www.mikesdivestore.com and will be available for general sale from March 11th 2019, which is the expected launch date.
Would love to hear in the comments below what you think of the Suunto D5? Did you see it at the recent dives shows across Europe? What were your thoughts?
Has anyone pre-ordered/purchased – if so which option did you go for??
Music in this video was sourced from Epidemic Sound
Parallax by Luwaks
(Apologies for the random camera focussing issues – literally no idea what happened there as never had the issue before?!)

Rating: 4.28