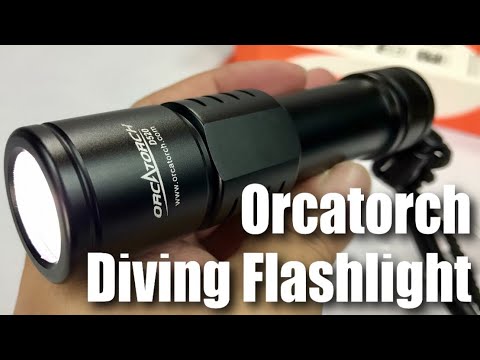 ORCATORCH D520 Scuba Diving Flashlight 1000 Lumen LED Light Review


As an Amazon Associate I earn from qualifying purchases.
Get it on Amazon here…
ORCATORCH
ORCATORCH D520 Diving Flashlight Scuba Diving Light 1000 LM Submarine Light 150M Waterproof scuba diving equipment Scuba Safety Lights, diving Backup light
1000 LUMENS FLASHLIGHT: Super Bright Diving flashlight neutral white LED Max output1000 lumens
MULTIFUNCTIONAL BATTERY CHARING: Powered by 2*CR123A (Not Included) or 2*16340 battery (Not Included) or 1*18650 (INCLUDED)
UNDERWATER 150 METERS: This diving light has three waterproof ring, you could dive to 150 meters underwater.
EASY TO OPERATION: Mechanically head rotary switch offers high reliability Before going into water, and don't unscrew the light head until you do out of water.
BEST DIVING FLASHLIGHT SUIT: With 2*18650 battery and 1* charger, suitable for Outdoor diving, cave diving, wreck diving, walking light
Introduction:
ORCATORCH D520 is a palm-sized diving light with a mechanically rotary switch.
The rotary switch offers high reliability underwater. Using the XM-L2(U4) neutral white LED, its max output can reach 1000 lumens, meanwhile the 5000K LED color temperature provides superb color rendition.
Powered by one 18650 battery, its max runtime can reach 2 hours. Plus robust water pressure resistant construction, high portability and easy operation, D520 would be qualified for both recreational diving as a primary light and deep diving as a backup light.
Package Including:
1 X D520 Flashlight
2 X 18650 battery
1 X BR122 charger
2 X O-ring
1 X lanyard
Operation:
1. ON/OFF : Insert the battery and tighten the light head to turn on the flashlight ,unscrew the light head to turn it off.
2. Please tighten the light head to turn on the light before you go underwater, and do not unscrew the light head until you have gone out of water to avoid leaking underwater.
3. The total runtime will be extended significantly if the light id used discontinuously.
Specification:
Working voltage:3-4.2V
Mode or stalls: 1 mode
Irradiation distance: 250m (On land)
LED runtime: 50,000hours
Battery: One 18650 battery (note torch operating voltage range)
Waterproof level: Underwater 150m
Size: 134.5mm(Length)*24mm(Diameter)*30mm(Head)
Flashlight Weight: 113.5g(excluding battery)
Body Material: High-strength aircraft-grade aluminum AL6061-T6
Surface Technology: The latest diamond grade hard-anodized
Lens: Optical double-side coated glass, its light transmittance is up to 91%.
Reflector: Aluminum alloy material, strong impact and scratch resistant, anti-aging, good fire resistance
Waterproof level: Underwater 150m
Application:
This Diving Flashlight is an extremely versatile, Super Bright, Designed for the professional divers or under water Photographer
It is mainly used for diving works, Underwater fishing operations, Salvage operations
Underwater archaeological work, Teaching Scuba diving
Also it is an ideal choice for outdoor activities, Such as fishing, diving, swimming, hiking, sailing, caving
hunting and seeking survival without fear of rainy days.

Rating: 3.90