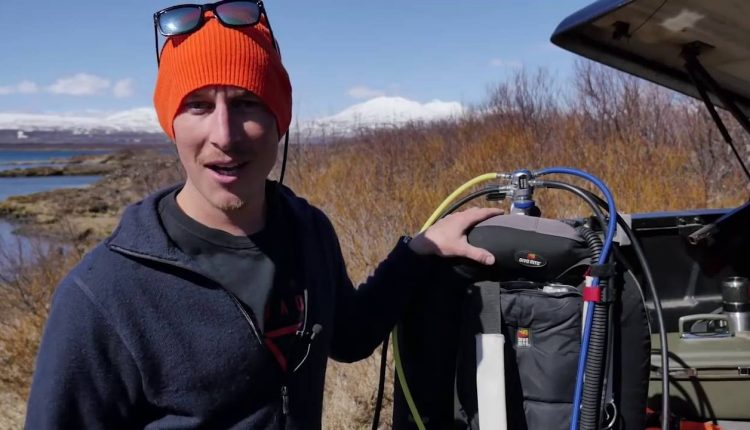 How To Be An Icelandic Drysuit Diver


Let's face it. Drysuit diving in Iceland isn't easy. The water is cold as f**k! There's a lot to think about, especially when it comes to the equipment. In this video you'll see David Ramsay and Kevin Martin from Magmadive getting dressed inside drysuits, then at the end, testing some underwater sea scooters.
Don't forget guys and gals, the basic up-keep of your drysuit's zipper is important and prevents you getting wet! Wax and lubricate your drysuit's zipper every single time you dive – seriously! Most tropical divers that visit Iceland bring the wrong gear. Don't let it happen to you! Prevent o-ring blow outs and free flow. Instead, use a cold water regulator with DIN setting to a scuba tank (DIN which stands for Deutsche Industrie Norm).
Don't listen to what everyone tells you! Except when it comes from the horses mouth. It's better to understand the fundamental differences between using a bcd vs. drysuit for buoyancy control underwater, before you start pressing buttons like a kid playing x-box. Also, on the subject of air…Check out the action man doll that clearly demonstrates the simple rules involved with a drysuit diver's body position. 'It's just basic gas physics'!
When a diver has a low out of air situation, having short hoses and cumbersome clips can be a nightmare. Compromise is not an option. Become a smarter more intelligent diver…David's talks all about the 'Hogarthian' long hose set up designed by William "Bill" Hogarth Main, a famous American cave diving pioneer. So simple, but so effective!
If you don't like cold wet sad hands then switch to the dark side, get some dry gloves. Get the inside scoop from Kevin on using dry gloves with some of the pro's and con's that come with diving in cold water. For him, the feeling of being damp is intolerable.
There's more to being warm than just padding! It's more to do with layering the heat and trapping air. Watch David don a base layer, mid layer and outer layer that are worn beneath a 7mm neoprene drysuit. Don't take your extremities for granted! Check out the super long, extra thick stretchy merino wool socks that cover the heat zones of his ankle areas.
Next the drysuit, the most vital piece of kit for cold water exploration. Watch as David dons a bog standard 7mm neoprene drysuit from start to finish showing how to enter the wrist and neck seal correctly without damaging the seals. Then, demonstrates how to close a rear entry drysuit zipper from left to right holding with one hand and using the other to draw the zip across smoothly and slowly, making sure to tuck in undergarment fabric worn beneath.
Finally, before disappearing into Iceland's greatest lake, he's vents the drysuit from a standing position before diving to remove all excess air for smooth a controlled descent. He then fully opens the drysuit's deflate valve for a 'hands free' mode used underwater.

Rating: 4.85