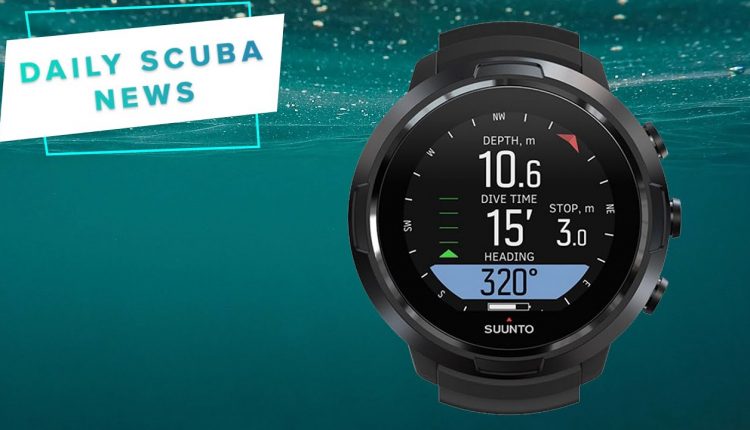 Daily Scuba News – Is Suuntos D5 going to show the Teric who's boss?


Is Suuntos D5 going to show the Teric who's boss
News –
Reviews –
Visit our shop –
■
Last week Suunto took their soon to be released D5 dive computer on the road to Nemo33 for its first tester for UK divers in the industry, sorry it was a by invitation only event, to take a look and get it wet. The D5 was announced Mid-December last year and you probably won't see it on the shelves until March 19.
The D5 is Suunto's first watch-sized, color screen dive computer. A hybrid between a D6 and an EON the D5 has a larger face than a DX but it's not as chunky. The hardware is similar to their sports watch range and will be compatible with Suunto Spartan and 9 wrist straps so you can customize to your hearts contempt. Standard units are available in two colors; black and steel with two color strap options so four in total but you have a choice of 32 other straps you can swap to ranging from sporty silicone to NATO webbing and classic leather.
■
Sources
Simply Scuba
墾丁環礁潛水(旅)中心
■
Team
Presenter(s): Mark Newman
Writer(s): Mark Newman
Editor(s): Shaun Johnson
■
Music
Walnut –
Artist: Mommy –
■
Hashtags
#dailyscubanews #news #suunto #D5 #scubadiving #simplyscuba
■
Let's Get Social
Facebook:
Twitter:
Instagram:
■
To browse our huge range of top brand Scuba gear and equipment for all ages, with fast shipping and 28-day returns, visit
For more helpful product videos plus expert scuba diving advice, head to

Rating: 4.79