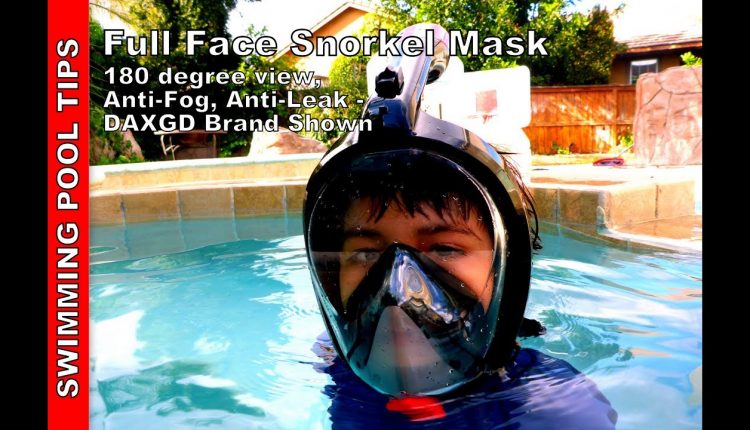 Full Face Snorkel Mask by DAXGD: 180 Degree View, Anti-Fogging and Anti-Leak -$40


Full Face Snorkeling Masks are becoming more popular everyday. These are Snorkeling Masks that cover the face completely much like a full face gas mask. This particular one is the DAXGD Full Face Diving Mask. These Full Face Snorkeling Masks cover your mouth, nose and eyes and offer great 180 degree visibility while under water.
This mask works just like your standard snorkeling mask except instead of putting the snorkel in your mouth and having the goggles cover your nose and eyes, this one will cover your entire face, minus your ears. Note that since the Snorkel is on top you get just about the same depth as if you used the standard one that fits in your mouth. The standard one looks longer but remember this one is attached to the top of the mask and that one goes in your mouth. For kids the Full Face Snorkel is the way to go.
I ordered the Small/Medium size for my 9 year old son and it fits his face nicely. They also sell a Large one. There is a size chart on their Amazon.com listing found here. You can also use this link to purchase the Full Face Snorkel:
To size the mask you measure from the eyes to the chin as shown in the sizing charts pictured with these Full Face Snorkels. Basically under 4.7 inches S/M and greater than 4.7 inches L size. If you have smaller kids I have seen kid sizes online that measure less than 3.7 inches and are sold as XS.
My son has problems with the pool water getting into his nose and mouth when he goes underwater. So I thought this would be a great solution for this problem. It goes much further than wearing a pair of goggles and he really loves swimming with this mask on. Of course it is designed for more than pool use but I think many pool owners and their kids would benefit from a Full Face Snorkel.
With the mask on and tight, breathing is very easy. I tried it on and I could breathe normally without any problems. When you take the mask all the way under a ball inside the snorkel will float up preventing any water from coming into the mask. It is really quite innovative and the seal is very water tight. The anti-fog section in front of the eyes stays very clear while wearing this under water.
It also is surprisingly light weight and fits on your head very well. Yes, you can feel you are wearing it but besides that it doesn't feel heavy or awkward. It is fairly east to get on and off, although my son still can't put it on himself. The straps are easy to pull if you are an adult, and removing it is also easy. This one has a snap down snorkel so it is easy to store it after use.
I would say a Full Face Snorkel is a great upgrade from your standard snorkel kit. Much better than just wearing goggles in the pool and you can dive down just the same if you like. If you were thinking about investing in one of these don't hesitate, they are great!
Here is a brief description of the one I got:
"DAXGD snorkeling diving mask is designed with the most advanced full face viewing window, provide 180 degree field of vision. Separate inhaling and exhaling make the viewing window anti-fogging, get clear view underwater
Fast folding snorkel tube, no disassembly, more lightweight than other types of diving masks. Two sizes to choose from, soft silicone seal fit your face and keep out water, 4-point head strap fixes all shapes of head and feels comfortable, the strap is adjustable Comes with a detachable support frame for GoPro action cameras."
Visit my Website:
eBook:
YouTube Video I – A list of all of my videos:
Follow Me:
Google +:
Blogger:
Facebook:
Twitter:
If you found this video helpful, please visit my website, any donation is greatly appreciated. Visit WEBSITE:
Music by: Trought the beat – Techno house track loop 125bpm
By Frankum & Frankumjay.
Frankumjay sounds.

Rating: 4.79