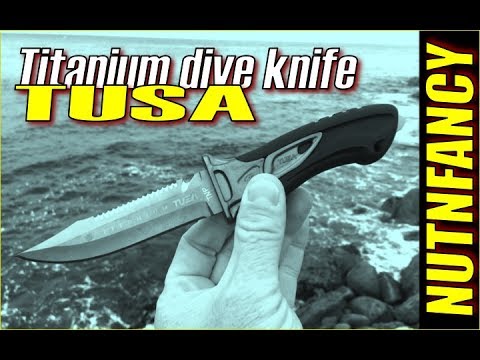 Tusa Titanium Dive Knife: Shark Waters


TUSA FK-940 "Expert II" Titanium Dive Knife:
SCUBA Diving in TNP. We head to the 55ºF Pacific Waters and Kelp forests to test the Tusa FK-940 titanium dive knife. Unlike its steel counterparts it will never rust and is low maintenance. Featuring a 4.5″ classically styled clip blade, this Tusa is feather light, has a perfect secure sheath, and a non-grabby polymer handle. It does come in 420 SS versions but this is our rec'd one: the titanium. We'll have an interesting POU discussion on this blade but it will center on its tool and kelp cutting functions; we using the Bill's Bangstick, spear pole, and common sense for shark defense mostly. The FK could also function as an excellent LBE knife with it's extreme lightweight. In a carried-much-used-seldom POU, the 64AL Titanium will function just fine.
I like the Tusa but here's some other good options:
Cressi Skorpion Titanium Dive Knife:
Promate Barracua Titanium Dive Knife:
Subscribe to TNP for more videos like this
Nutnfancy
TheNutnfancyProject
TNP stuff at: www.nutnfancy.bigcartel.com
TWITTER! www.twitter.com/nutnfancy

Rating: 4.78