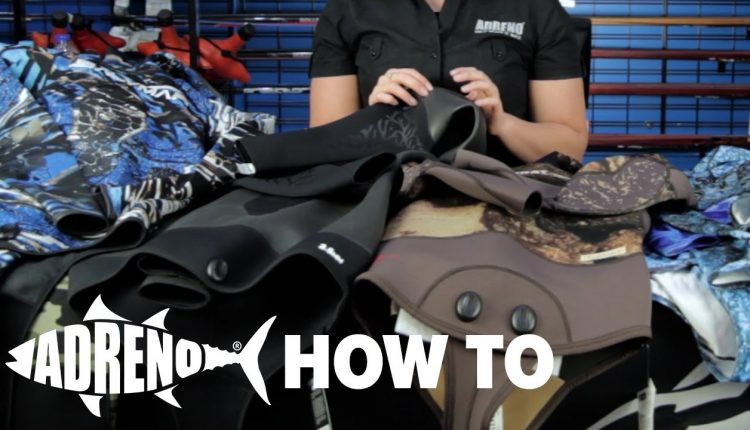 How To Choose a Wetsuit | ADRENO


Adreno's Kahlee Andrews defines which wetsuit is best suited for each circumstance.
Wetsuits provide warmth and protection when spearfishing from surfaces such as coral, from UV rays preventing sunburn, from any sharp hazards on your catch such as spikes and teeth and can also assist in loading your speargun.
Closed cell neoprene wetsuits are good for warmer conditions, offering a softer material at a cheaper price. They don't require lubrication when putting them on, which makes the whole process of preparing for a dive much easier.
Open cell neoprene creates air bubbles, which stick to the skin creating a layer of air, which warms as you dive. They are very comfortable for divers to wear; however they require some lubrication to put on due to their sticky nature. The higher quality of this material does mean that you'll have to pay extra for this type of suit. They are slightly more fragile so be careful not to damage them with any sharp or abrasive surfaces like fingernails.
Smoothskin wetsuits can be lined on the inside with closed cell neoprene with a smooth outer material and can sometimes be reversible. The main benefits of this design is that they don't require lubrication for putting them on, you can reverse the suit to have the driest side on the inside so you don't get cold putting them on, and provides protection from wind chill due to the smoothskin material. They also dry very quickly. The disadvantage of this type of suit is that they are fragile so they aren't suited to things like cray, which involves contact with abrasive surfaces.
Lycra suits are great in warm water and provide protection against stingers. However, these suits provide essentially no thermal insulation so they are not suited to waters that fluctuate into cooler temperatures.
It's always important to choose a suit specific to spearfishing so that it includes a chest-loading pad. This will make loading the speargun much easier as the pressure on your sternum is reduced.
Thermals can be added to wetsuits for extra warmth. You can choose between a fleece or titanium lining, where the latter is much thinner and still provides warmth.
In terms of the type of cut you prefer it comes down to personal preference. Beginners generally will start with a single piece steamer. Moving up the range, two-piece wetsuits provide more comfort and increased warmth at your core. Choosing between the long-john and high waist pants comes down to your own personal preference.
Like, Favourite and Share this video!
Adreno's Website
Subscribe for more from Adreno!
Adreno Youtube Channel
Facebook
Instagram
Kahlee's Instagram
Filmed & Edited by Oliver McLure
Music credited to Rory Anthony
Rating: 4.84