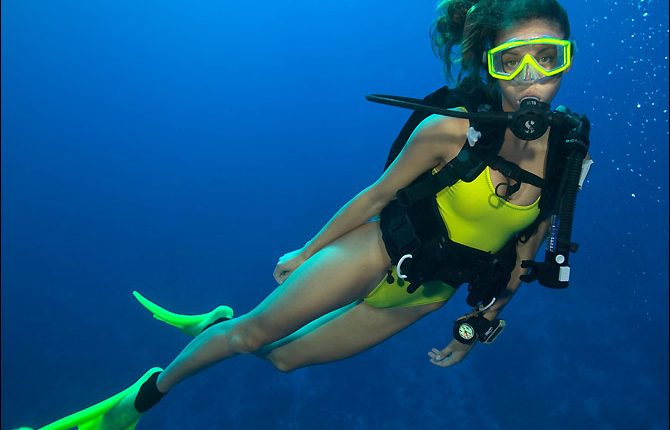 Three Must See Scuba Diving Destinations Around The World
Scuba diving has long been a popular sport for travelers around the world. There is a certain excitement that comes with seeing the world as it is from beneath the ocean. The rich marine life and crystal clear water can make for an amazing vacation and one that will not be forgotten. Scuba diving will provide the thrill of a lifetime while also taking you to some of the most unique places on Earth.
Throughout the world there are several destinations which offer for great scuba diving. The Caribbean is one of these locations, and it is renowned for its diving. It's no surprise that all three of the following dives are located there.
Bimini
Bimini is one of the most popular areas in the Caribbean for scuba diving and for good reason. Its crystal blue water and beautiful weather provide amazing dive conditions for 9 months out of the year. The waters here are full of life and diving here is a favorite of many.
The Bimini Road is a half mile long underwater formation of limestome rocks resembling a road. Discovered in 1968, the rounded stones were thought to perhaps be the undersea road to the Lost City of Atlantis. However the general consensus among the scientific community is that the Bimini road is a naturally occurring geological formation. Either way, the Bimini Road is an extremely fun dive and one can't help but get a mystical feeling when visiting here.
Great Blue Hole
Located just off the coast of Belize, the Great Blue Hole is an underwater sinkhole measuring 394 feet deep. Formed as a limestone cave during the last glacial period, it was created when the roof collapsed as a result of rising sea levels. This dive can look a bit frightening at first, but its clear blue water and unique marine life are a draw for divers everywhere. The famous underwater explorer Jacques-Yves Cousteau declared this one of the top ten scuba diving locations in the world.
Cozumel
Just off the coast of the Yucatan Peninsula, Cozumel is considered by many the best scuba diving destination on Earth. Its beautiful coral reefs, vibrant marine life, and high visibility are a divers dream. Cozumel contains over 19 popular reef diving locations, providing you a huge selection of options to choose from. For super adventurous divers a short boat trip to the mainland is all you need to dive into the mysterious underwater caves known as Cenotes. As you can see, Cozumel has a wide array of diving options to choose from, all of which will provide for an exciting and adventurous vacation. For more information, check out this article I've written about scuba diving in Cozumel.
All 3 of these scuba diving destinations are impressive and offer divers an experience to rival the best of their stories. Choosing one may be a challenge, and most divers commit to seeing all 3. Who can blame them? With such unique characteristics and because of their close proximity to paradise, these locations bring out all the best for scuba divers.
Jacob M Martus