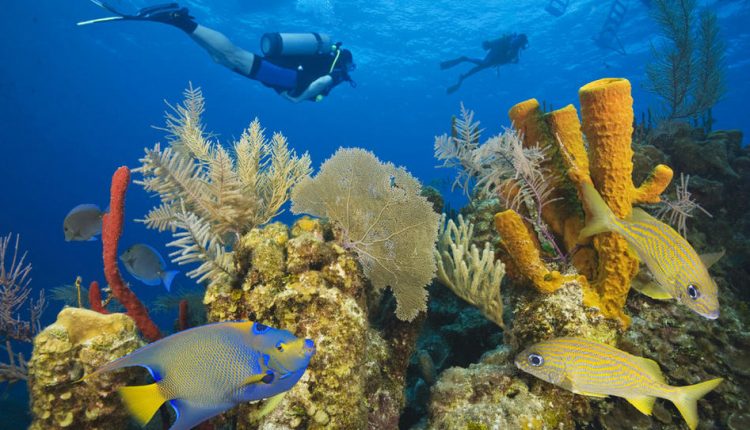 Fishing and Diving Lore Traditions on Ambergris Caye at the Belize Barrier Reef
All these experienced guides are native San Pedranos and second or third generation mariners and fishermen; who grew up on the sea and turned an affinity for nature into a profession that's challenged and delighted thousands of visitors over the years.
The dive master of a well-known dive shop and adventure center recalls that in the 1960's retired dive instructors from the US Navy arrived in San Pedro and began teaching scuba diving to the natives and one of the first students was Robert Peter (Roberto) Bradley, and then his elder sons. Rene Bradley strapped on his first tank at the age of 11 under the supervision of his older brother George and spent every available moment afterwards following his brothers' bubbles and assisting in guiding endeavors. In 1984 Rene and his younger brothers, Jacinto and Alberto joined the already well established dive and fishing guides Francisco (Pancho) Verde and older brothers George, Roberto and Leonardo in leading Belize visitors on adventures to the sea.
Why did these young San Pedranos choose to become guides? The transition from solitary fishermen to hosts and ambassadors was an easy one. As Pancho Verde says, "I was already fishing every day anyway and guiding visitors gave me a chance to meet new people and make friends from all over the world."
Over the years these guides have introduced the waters of Belize to countless guests, including many celebrities. Leonardo has fond memories of Harrison Ford and his film crew during the production of Mosquito Coast, while Alberto remembers Cyndi Lauper as being a lot of fun, just as you might expect.
George Bradley, the oldest brother and a truly gifted fly fisherman is soft-spoken and very enthusiastic about spending a day on the water. His guests, many of whom book their vacation time around his schedule, feel the same way. Roberto Jr, the youngest member of the team has followed proudly in his fathers footsteps and when asked about the guests they take fishing, they say that all of them are stars, whether seen in movies or not!
All these expert Belizian fishing and diving guides agree that the true reward of their profession is the expression of delight on a novice divers face or the excitement of a fisherman hooking up with the "big one" after a morning on the flats. They're rightly proud of their beautiful country and the part they play in promoting and preserving it for future generations.
When searching for a great Caribbean vacation with world class diving, snorkeling and fishing, Ambergris Caye provides the best combination of luxury accommodations, a relaxed atmosphere and the most personable and professional guides available anywhere.