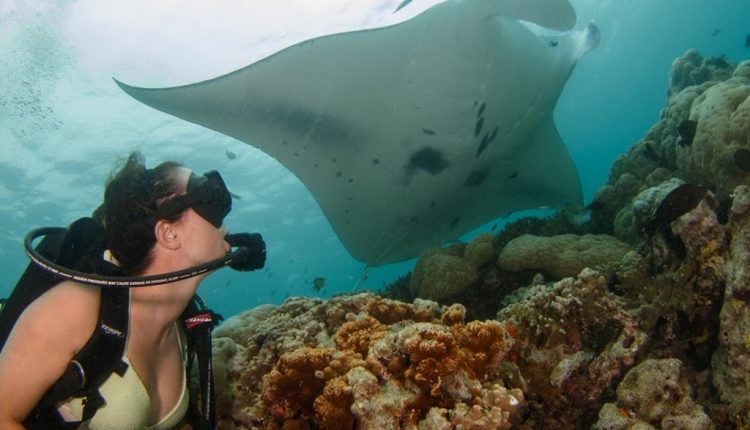 Go Scuba Diving at Yap Dive Sites
Tourists and diving enthusiasts literally flock to the Yap islands annually to explore the culture, traditions, tourist attractions, and the exciting getaway that only Yap and its residents can offer. Diving is part and parcel of the entire Yap experience too. When not checking out the huge monuments of stone money in Yap or drinking in the gorgeous landscape views and the views from the impressive beachfronts, you can dive deep into the waters surrounding Yap and examine as many Yap diving destinations as possible!
The waters making up Yap dive sites are impressively and unbelievably clear and you are bound to catch site of a manta ray or two. Turtles, reef fish, sharks, and more marine life await to greet you in the warm waters surrounding the gorgeous Yap islands as well. You will find a good deal of diving locations a mere half hour from Yap's Colonia Harbor and the underwater beds of coral and vast reefs will leave you truly impressed by the underwater landscapes too!
Visit Yap dive sites like the Eagle's nest where you can see Eagle Rays in their native environment, or take a dive into the Garden Eel Flats just east of Miil Channel where sixty feet of waters await your curiosity. Here you will find coral, gold gorgonians, red gorgonians, and a sloping wall filled with marine life. Take time to check out Goofnew Channel too since this Yap dive site is a fine destination for spotting the Manta Rays that Yap is famous for.
Into diving so you can see sharks; head on over to the Lionfish Wall in Yap where a 130 foot dive will introduce you to sharks resting along the ocean floor and spot a few of the stunning lionfish also native to the area. Shark City is another excellent shark seeing dive site in Yap where reef sharks of the Whitetip species live. You may also be able to spot a Gray shark or two in the same region.