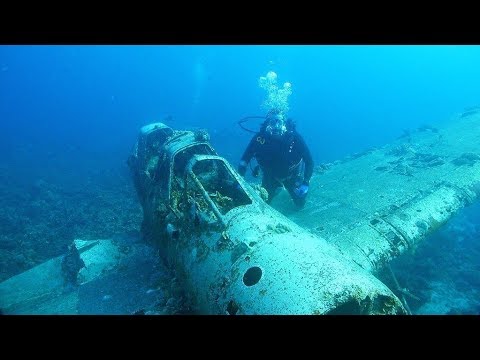 CREEPIEST UNDERWATER SCUBA DIVING LOCATIONS


From dangerous unpredictable underwater caves, to the remnants of the US presence in the pacific here are 13 creepiest underwater scuba diving locations.
Subscribe to American Eye
6. Molinere Underwater Sculpture Park
Another strange underwater sculpture park similar to the one near cancun, this scuba diving spot has some eery discoveries waiting for you. Most of the sculptures are of people and there's one in particular which displays people holding hands that seems like a scene from a horror film. The park was created in 2006 and it got started by Jason DeCaires. There are over 50 life like sculptures which are in the process of becoming an underwater reef. You have to wonder what future archaeologists might be thinking if they uncover this place years from now. The variety of art and colors formed from the reef make this place quite unique.
5. Bikini Atoll Scuba Diving
Many would love to venture off to he south pacific and scuba dive throughout the ships that were destroyed as a result of nuclear testing! You probably wouldn't wanna tell your parents that you were going scuba diving here unless you wanted to give them a heart attack. Getting to this remote place to go scuba diving certainly isn't easy and those who've decided to take the challenge, report paying about 12,000 in expenses for a 2 week trip. The amount of ships that met their watery grave here is quite astonishing. That's not all you'll find here, there's planes, submarines and tanks here as well. There are also 2 aircraft carriers permantly at the bottom, the saratoga who actually survived one blast but was sunk by an underwater nuclear detonation. There's also the USS independance which is rumored to hold barrels of atomic waste. It could be one of the most radioactive places on earth and only the most fearless scuba divers will take on the challenge. You gotta wonder if they've created some type of scuba diving hazmat suit to check this out
4. The Shark Tank
You will certainly begin to feel your heart start to pound as you begin to lower insider of a shark tank. Sharks are swimming all around and if something goes wrong, you might have a few problems. Scientists and scuba divers take their chances and essentially become bait in exchange for an up close view of underwater apex predators. Great white sharks are among some of the toughest creatures out there and certainly cause a panic when they're spotted on local beaches. These guys typically eat what they want so you better hope your cage is sturdy enough to withstand the battle.
3. Thunder Bay National Marine Sanctuary
Just recently two shipwrecks were discovered off the coast of lake huron michigan using sonar, were two massive coal powered ships, both over 200 feet long. The midwest produces much of america's grain and these ships were used to transport thousands of tons of grain all over the place. The cold conditions of the huron lake have helped preserve these steel behemoths for 102 years. Scuba divers get the chance to better understand the Ohio and Choctaw, by swimming up close with cameras. Various universities in the US have donated money to the sanctuary to learn more about the great lakes and their mysterious ways. The fresh waters here preserve over 200 shipwrecks and there is plenty to see when scuba diving here.
2. Ginnie Springs, Florida
Located in a privately owned park, the natural formations here are sure to give you the creeps. Florida is known for their dangerous spring scuba diving locations which are almost like ponds with caves deep below, such as the one found at Vortex Springs. There are plenty of caverns and caves to creep through and if you make it to the bottom, you can notice the limestone formations. This one isn't too dangerous considering that it only goes 50 feet deep but just remember how to get out of the cave and maybe bring a flashlight. Some will use rope to help them keep tabs on where they're at which could certainly prove to be useful.
1.Lake Kaindy, Kazakhstan
Also known as the sunken forest, this crazy lake is located in the central Asian country of Kazakhstan! This place was formed from an enormous landslide that was triggered from a 1911 earthquake that devastated the country. The landslide created a natural dam and it caused a nearby river to be blocked. The river overflowed and took over the forest. The spruce trees now are but the tree trunks still stand tall. This has become a favorite scuba diving location for many but the water is always mysteriously cold, even in the summertime. Some claim that the turquoise water of the lake has magical properties.

source