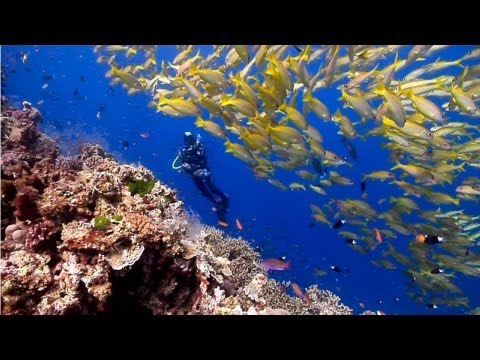 Australia's Great Barrier Reef | beautiful underwater nature | Scuba Diving the Ribbon Reefs HD


The Ribbon Reefs are a string of ten large reefs that together form the outer edge of Australia's Great Barrier Reef. One feature of the Ribbons is that they serve to shelter the inner reef from big storm damage.
The Ribbon Reefs are home to some of the GBR's most popular dive sites. "Steve's Bommie", "Lighthouse Bommie" and "Cod Hole" are among the best known. But there are also other more recently discovered sites that were real standouts on our recent expedition (June 2011).
"Acropolis" is one of the sites that is new to me. It boasts the most perfect fields of Acropora coral I have ever seen. Table corals that are 12′ / 3.6m in diameter are common here. Uninterrupted fields of staghorn corals extend beyond the 100′ / 30m visibility in all directions. Coral cover is close to 100% on this reef. Such coral density is getting rare enough these days… but considering this whole region recently slept through Cyclone Yasi, then the still-pristine state of "Acropolis" is testament to the resilience of coral reefs, the protection the "barrier" offers the inner reef, and the general patchiness of storm damage.
Liz and I dived and worked on the Ribbon Reefs a decade ago—in fact, it's where we first met. During our expedition last month, we were thrilled to see the sites were in even better condition now than when we last saw them. Familiar coral heads and bommies seem to have more fish than ever. The corals are in better condition, and of course bigger than they were 10 years ago. The many anemones I used to film each week have found new tenants, but are still right where I last saw them: True clownfish have replaced the Pink anemonefish on top of "Steve's Bommie", while Barrier Reef anemonefish have replaced Spinecheeks a little further down the site. It was like returning to an old neighbourhood… some faces may have changed, but the same houses stand strong.
This video shows a random mix of footage from the Ribbon Reefs dive sites. I hope it doesn't take another 10 years before I re-visit them again.
—Josh Jensen
~
Music: "Air on the G string" recording owned by Partners In Rhyme and licensed to Undersea Productions for commercial use.
Footage: Filmed and owned by Josh Jensen, Undersea Productions.

source