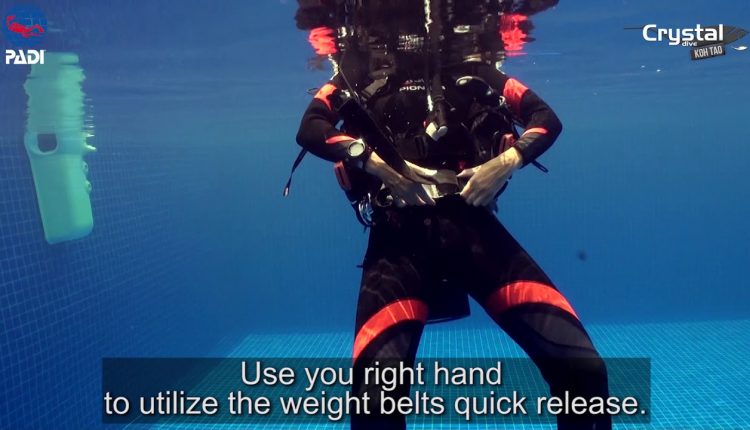 How to Remove and Replace Belt on the Surface PADI IDC Skills Diving Instructor Thailand


*Important Read First*
How to Remove and Replace Weight Belt on the Surface PADI IDC Skills Diving Instructor Thailand
IDC Skills – remove and replace the weight system on the surface of the water.
OBJECTIVE
Remove, replace, adjust and secure weight system with minimal assistance at the surface in water too deep in which to stand.
VALUE
After a buoyancy check at the surface, you may want to adjust the amount of weight on your weight belt. You can easily take it off, make your adjustments and put it back on.
DESCRIPTION
While on the surface you should always have your snorkel in your mouth
The first step is to make sure your BCD is fully inflated.
Use you right hand to utilize the weight belts quick release.
Bring the weight belt in front of you while maintaining a firm grasp to avoid dropping the belt.
Before placing the weight belt back on, check for twists and make any adjustments needed.
Hold the non-buckle end in your right hand to ensure that when you put it back on, it is a right hand release.
An easy way to put the belt back on is to loop it under your knees, and slide it up to your waist.
At this time you may lean forward rest the weight belt on your back as you re-secure it.
Remember to check that it is a right hand release.
ORGANISATION
This skill must be performed on the surface in water too deep to stand.
Since the skill is conducted both above and below the surface, remember to look below when the Instructor signals you.
The Instructor will then conduct the skill one by one while the Divemaster watches over the other students.
The skill must be repeated until mastery is achieved.
For all Pro level diving courses contact Award Winning Platinum Course Director Matt Bolton on matt@crystaldive.com or connect on social.
Check out our Pro-Level Diving Courses:
Check out our PADI Divemaster Course:
Check out our PADI Instructor Course:
Our Master Scuba Diver Trainer Program (MSDT):
Article:
Connect with us on social:
Instagram:
Twitter:
Google+:
Facebook:
Pinterest:
For all our Underwater Videography Courses and services contact Crystal Images Koh Tao.
Video was Filmed and Edited by Istvan Zoboki from Crystal Images Koh Tao.
On land, sea and air we create images for everyone from local businesses to international TV companies.
Contact us at steve@crystalimageskohtao.com or visit for more information about underwater training courses or our production services.
Follow us for more amazing videos on:
Facebook:
Instagram:
Twitter:
IDC Koh Tao at Crystal Dive Koh Tao
***** 5 Star Award Winning Career Development Centre (CDC) *****
Koh Tao
Thailand 84360
* Winners of Multiple Outstanding Awards for our Contributions to Diver Safety & Training over 20 Years *

Rating: 5.00