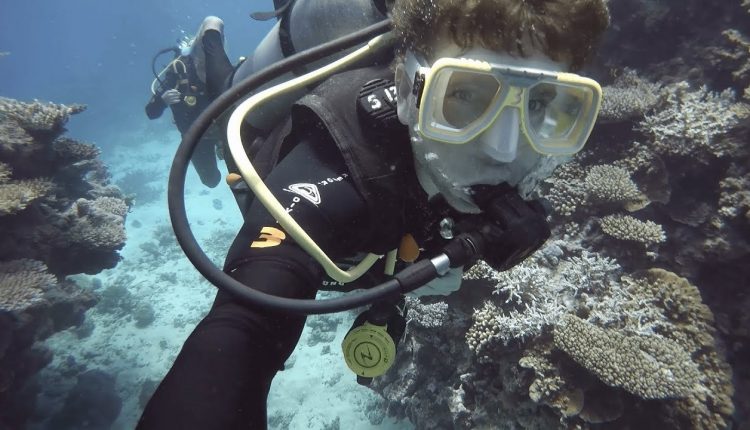 SCUBA diving the Great Barrier Reef (from Cairns)


SCUBA diving on the Great Barrier Reef is something I've wanted to do since I was very little and I'm feel very fortunate and thankful that things fell into place for me to be able to make it happen. I'll never forget this experience and I hope you've enjoyed the video I made highlighting my experience on the reef. Also, this was the first time I ever shot any footage underwater and I had a lot of fun doing it, hopefully I can shoot with something a little more versatile than a GoPro in the future.
Dive Site information:
Coral Gardens (Flynn Reef):
-Bottom Time: 42 minutes
-Max Depth: 15 meters (49.2 feet)
Gordon's M. (Flynn Reef):
-Bottom Time: 43 minutes
-Max Depth: 17 meters (55.8 feet)
Tracy's (Flynn Reef):
-Bottom Time: 49 minutes
-Max Depth: 12.3 meters (39.4 feet)
Some of the wildlife that I saw on this dive included a green turtle, bumphead parrotfish, Great Barrier Reef Anemone fish, Pink Anemone fish, a few different species of batfish, clownfish, Maori Wrasse, a Titan Triggerfish, a Kuhl stingray, a few species of angelfish, and also a messmorizing giant blue clam. I went on these dives in September of 2016.
This video is part of a series of videos depicting my travels in Australia as I lived there for an entire year on a "work and holiday visa." Please consider subscribing for more videos from the beautiful land down under as well as other, SCUBA diving, backpacking, and adventure travel videos!
***If you would like to know more about SCUBA diving on the Great Barrier Reef, here are some references that you may find helpful:
The Quicksilver Group was the operator that took me out to the reef. I rode on the "SilverSwift" vessel and I had a really good experience with them. They can be found here:
and
Credit for media that is not my own:
-Great Barrier Reef from space image at (TC: 1:05):
By NASA/Kjell Lindgren [Public domain], via Wikimedia Commons
Link:
-Reef map image at (TC: 1:21)
Image Courtesy of Silver Series Cruises
Link:
Music Used:
Artist: Fredrik Nyblom
Track: 95′
Soundcloud:
YouTube:
Artist: Muciojad
Track: waterfalls of love
waterfalls of love by Muciojad Creative Commons — Attribution-ShareAlike 3.0 Unported— CC BY-SA 3.0 Music provided by Music for Creators
Sensatious Hiatus is a channel I've created to dedicate to all things adventure and travel. I invite you to subscribe to my channel where I highlight my adventures and also dish out backpacking advice, gear reviews, and travel tips. Thanks for watching!

Rating: 5.00