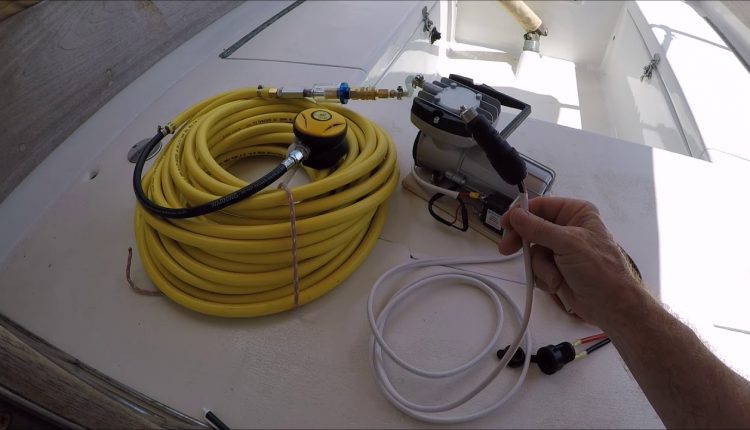 DIY $300 Dive Hookah for Boat Bottom Cleaning


(Parts and sources listed below)
I used to clean my boat bottom by holding my breath with a snorkel. It was a lot of work with constant interruption to come up for, air and my lung capacity is not what it used to be. I wanted the smallest and lightest possible 12v dive hookah. It needed to draw minimal current for one diver working at max 4-foot depth. Ready-made units were too big and expensive and designed for going deeper than I needed. There was one small unit on ebay for $440 but I was unsure of its quality, reliability, and size of components. I spent under $300 on parts.
Warning: Diving at even shallow depths with compressed air can be dangerous. Please do not copy my system unless you have done your own research and take responsibility for your own choices. A diving course is recommended. Here is a list of the materials I used:
1. Pump: ACQ-908 12 volt, 105 watt (9 amp), 150 L/Min, 0.12MPA (this is just barely adequate for me and requires I control my breathing for this small compressor to keep up. It would be a safer choice to use the next size larger pump ACQ-910) – $92 including shipping to US
(Aliexpress is retail side of Alibaba, a Chinese version of Amazon. The link above has the listing mixed up. Under "Color" you need to select the pump size and then click Quantity 1.)
2. Air Breathing Hose 10mm x 20m – Non-toxic Scuba Hookah Diving Hose – ebay $44US plus $61 shipping from Australia.
Gator Gill on Ebay now sells a 50-foot hose with the quick disconnect fittings for $105 plus shipping:
I might have saved $65 using less expensive 3/8″ x 50′ SHIELDS RUBBER Series 162 Polyester Reinforced Clear PVC Tubing – $40 and free shipping at Walmart online:
3. Hanperal 145 PSI Explorer Scuba Diving Dive 2nd Stage Regulator Octopus Hookah – $24 at:
(I tried two different Chinese regulators and both arrived with strong rubber smell and taste when I tested them so I kept the regulator and swapped out the hose for this 22-inch hose for $18 plus $7 shipping:
4. Edge Industrial 3/8 X 1/4 Hose ID brass barb reducer splicer fitting – $8 at:
5. Water and particle filter – $20 plus $7 shipping at ebay Gator Gill
6. Hose disconnect fittings and clamps from Harborfreight.com – about $15
7. 12v 20 amp circuit breaker (or switch and fuse) – about $17 on Amazon but I had a used one on hand.
8. Scrap plywood, aluminum plate to mount switch, two #10 bolts, nuts and washers, #10 AWG wire, crimp connectors, and battery clips, clip to hold air hose to dive belt – about $25
Total about $320 but if I wanted to use the cheaper hose that would bring it under $300. I'm sure there is a more elegant way to connect the various hose fittings with quick disconnects but this is what I had at hand.

Rating: 4.81