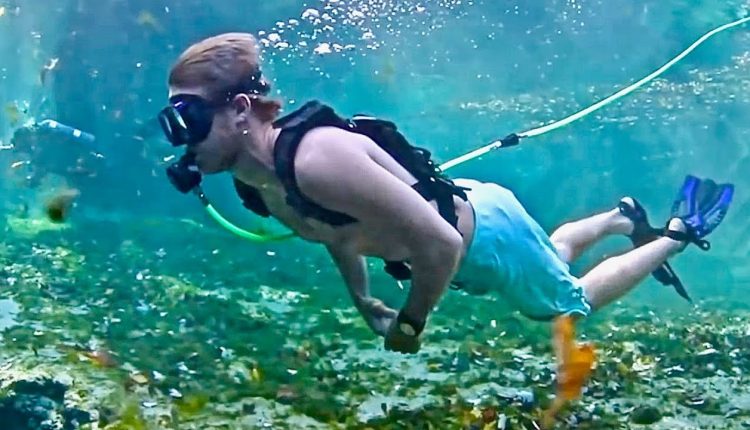 Scuba Dive Without Tanks – New Portable Light Weight System


Music: Bottom of the Sea by Dhruva Aliman Spotify –
NOMAD bLU3 floats on the surface of the water while a compressor takes fresh air and pumps it right to the diver through a 40-foot hose. More technical: An air compressor floats above the surface in an innovative, all-in-one, housing while a [40] foot and second stage regulator provide air to the diver. The compressor only sends air when needed by monitoring pressure in the hose, which conserves battery. The entire unit is battery-powered – charged with a single cable and can even be fully charged by an optional solar panel in about 3 hours.
Easiest way to collect ocean data
Data Collection
Part of our mission at bLU3 is to develop a sensor package that seamlessly collects environmental data while you dive. We plan to develop integrated sensors to collect valuable data – such as GPS, depth, temperature (and many more to come) – in order to assist researchers and empower ordinary citizens. By using NOMAD + the sensor package, you'll effortlessly become a citizen scientist.
The goal is to prevent "Environmental Amnesia" – a term used to describe the unnoticed decline of ocean health over decades. We have to keep track of what is happening in order to stop it from happening.
All you'll have to do is connect NOMAD to your mobile app and it'll automatically sync to an online database. The development of the sensor package is underway, but we cannot guarantee that it will be in production by the time that the first NOMAD units are sent out. Stay tuned so that you can keep up-to-date on our development in this area.
Features:
Waterproof touch interface
Backpack latch system for easy carry
Segmented Lithium Ion Batteries – carry on a plane!
Auto-inflation – press inflate, and get ready to dive
Watertight storage compartment for phone, wallet, etc.
Built-in USB charging port for mobile devices, cameras, etc.
Color LED Mode Indicator (Inflate, deflate, dive, low battery, etc)
Low-battery alarm – hear the warning even underwater
Optional Solar Panel – Recharges NOMAD in 3 hours
Sensor Package Modularity – setup for future data collection

Rating: 4.55