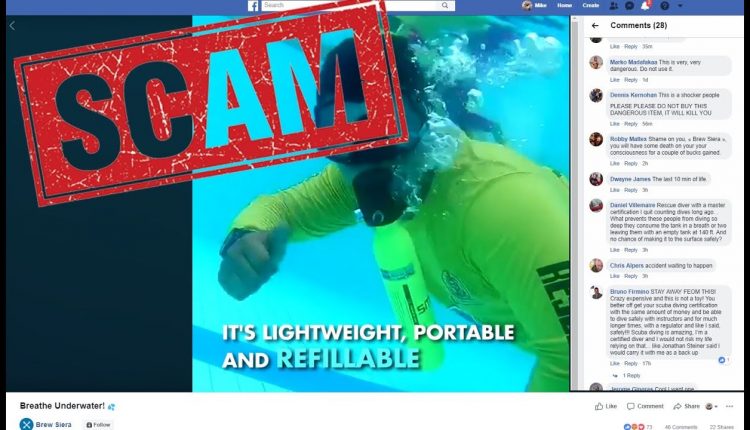 Smaco Mini Dive Tank – SCAM WARNING [Scork] [Spareair][Scopel]


Warn your friends, this can actually save a life!
This thing is a DEATH TRAP! They are encouraging untrained people to use substandard air for what is effectively SCUBA. When the untrained person takes their last breath and runs out of air from even 3 meters they will hold their breath and bold to the surface, the air in their lungs will expand by around 30% which is more than enough to cause pulmonary barotrauma or an air embolism both of which are likely to kill them. There is a very real possibility that people who do that will be dead before they reach the surface. There's a reason there's a 4 day course required to use SCUBA even in relatively shallow water. Disappointed this is being advertised!
#Smaco #Scam
Scammer ads on facebook look like this:
Breathe Underwater! 😱💦
This new device gives you up to 10 minutes of air! Get your todays for 50% Off. 🔥
Click Here Brewsiera.com/MiniDiveTank
(Video stolen from SCORKL)
SCAM Sites SMACO (Chinese ripoff, video stolen from Scork)
Smaco Mini Dive Tank
Possible scams
Also sold as scopel
LEGIT SITES
Rating: 3.21