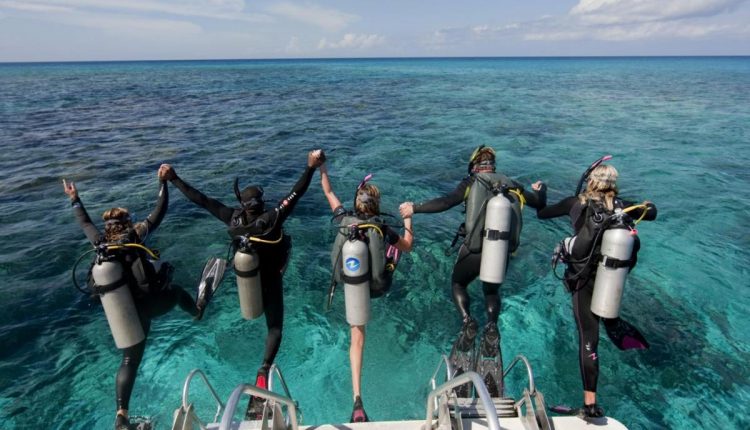 Family Fun on a Scuba Diving Holiday
More and more families are choosing to head off on an adventure holiday to learn new sports, engage in different activities, and enjoy some family togetherness. Many travel companies offer specialised family adventure holiday packages, and you'll have a huge amount of choice.
Scuba diving is one such activity holiday that many families enjoy, but before you book an adventure like this you need to make sure you research adequate family travel insurance, to cover you for your underwater activities. Scuba diving usually requires additional cover on top of a basic family travel insurance policy, so do make sure you check.
Diving With Your Family
Some keen divers might think that once they have children they'll have to shelve their love of diving for a few years. Not so! There are plenty of family oriented scuba diving holidays that cater very well for children of all ages. There are a few things to consider, however.
Firstly, make sure you choose a resort that fits in with your budget and your family's needs – there needs to be something for everyone to enjoy, no matter what their skill level. Book with a reputable company so you can be sure of quality accommodation and decent catering – and, of course, make sure you organise that aforementioned family travel insurance policy.
How Old Do the Children Need to Be?
Diving is a safe and fun hobby for everyone in the family (if properly supervised) and children as young as eight can get involved. There are some resorts that even have instructors especially for children between the ages of eight and ten. 'Bubble Maker' courses are perfect for helping youngsters gain confidence and experience what it feels like to have to breathe underwater, while 'Junior Open Water' courses cater for the over tens. Once the children are certified you can all dive together.
Three Top Family Scuba Resorts
The Iberotel Coraya, in Egypt, is a fabulous family friendly option. With a beach, pool, and plenty of other facilities, including children's pool and beach playground, the kids will have a safe environment to play when you aren't scuba diving.
In the Philippines, the stunning Kasai Village is situated right by the sea. The staff are exceptionally welcome and the resort is renowned for its wonderful facilities for children. Aside from the excellent diving opportunities, you can also go cave walking, visit waterfalls, or have fun with the host of beach activities.
The Maldives' Bandos Island is a spectacular resort for families. Children are welcomed and well catered for with a huge programme of activities. There is a dedicated Kids' Club as well as a childcare centre and large playground. Older children will love the boat trips, football, tennis and live music, as well as the fantastic diving of course!
A family scuba diving holiday is one of the most exciting adventure holidays available. Choose your destination, get your family travel insurance in place and get ready to explore a whole new world beneath the sea.