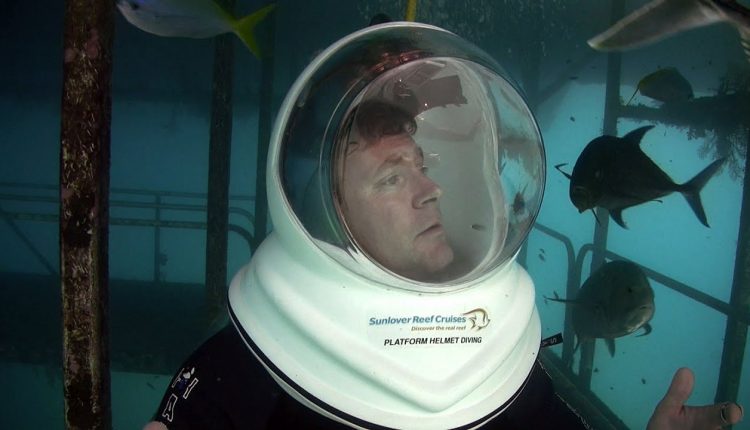 Diving the Great Barrier Reef | JONATHAN BIRD'S BLUE WORLD


Jonathan visits the largest reef system in the world: the famous Great Barrier Reef of Australia. In addition to going diving, he visits the reef as non-divers often do—by submarine, helicopter and even in a bubble helmet! Along the way he meets some amazing animals such as a friendly sea turtle and a giant wrasse!
This is an HD upload of a previously released season 3 segment.
**********************************************************************
If you like Jonathan Bird's Blue World, don't forget to subscribe!
You can join us on Facebook!
Twitter
Instagram
@blueworldtv
Web:
**********************************************************************
The Great Barrier Reef. It's probably the most famous reef in the world, and the largest. It's not just visible from the air, but from space.
Cairns is a city in Queensland, the northeast state of Australia. The Great Barrier Reef runs 1600 miles along the coast of Queensland.
Its made up of millions of interconnected coral heads, forming the largest living structure made by living organisms!
To see the whole thing, you need to get pretty high up. This satellite image was made from 400 feet above the ocean. You can see the reef just offshore.
For my first encounter on the Great Barrier Reef, I'll be making the trip out on a big catamaran operated by Sunlover Cruises.
The crew unties the boat and I enjoy the scenery as we head offshore.
Ninety minutes later, I arrive at the Sunlover pontoon. I have never seen a dive operation like this before. The boat is huge, but we don't dive from the boat. Instead we dock at this massive pontoon—sort of like a floating dive shop—and spend the day right next to the reef in a protected spot. Pure luxury!
A lot of people who don't dive love to come out and get a first hand look at the reef here. The water is clear and it's not too deep.
But even people who don't like to get wet can see the reef. On a submarine!
And for a diving experience unlike any other, anyone can try the Sea Walker experience. All you need is a 40 found helmet! I walk down the stairs into the water and the staff outfits me with the strangest piece of dive gear I have ever used. With no fins on, I just walk out to a massive school of fish. My hair doesn't even get wet!
This is incredible! They've got about a thousand fish around here. I feel like Doctor Sylvia Earle – deep sea diver. This is a very different way to go scuba diving, and this just goes to show you if you don't want to wear a mask, don't want to wear a regulator, and maybe you can't even swim that well, you can do this! It's just like walking.
You know I've had a lot of experiences underwater, and this is definitely one of the most unique!
To demonstrate how this helmet works, I have an ordinary water glass, which obviously is full of water, but if I turn it upside down, I can fill it with air. (Fills it with air) And now you can see that it keeps the air in, but if you turn it right side up – so we don't want to turn this right side up.
I pose for a picture, because you never know when you're going to get to do this again!
Next I meet Vance Fahey who will be my divemaster for a scuba dive on the reef today.
Not only do I have a nice easy staircase to walk right down into the water, but a platform for putting on my fins. I can get used to this!
On the platform is a group of new divers getting their first taste of the underwater world.
At last I head out onto the reef to explore.
I see many types of hard corals, beautiful pastel colored soft corals, and lots of fan coral.
Near the reef, I find one of the largest Giant Clams I have ever seen. I can't imagine how much this clam must weigh.
The mantle gets its bright colors from imbedded symbiotic algae that harvest the sun's rays for energy.
I find a huge crack in the reef and have a little fun swimming through it.
On the other end, I'm greeted by a sea turtle.
She comes right over. There are lots of divers around this reef and this turtle knows that the divers won't hurt her.
Once she has decided that I'm not doing anything terribly interesting, she goes back to looking for her favorite sponges to eat.
I turn and head back towards the platform across the shallow reef.
At the platform I'm greeted by a friendly Mauri Wrasse. This monster of a fish reaches both the length and the weight of a motorcycle. I'm just glad they prefer to eat crustaceans and mollusks–not divers!
I think I've made a new friend!

source