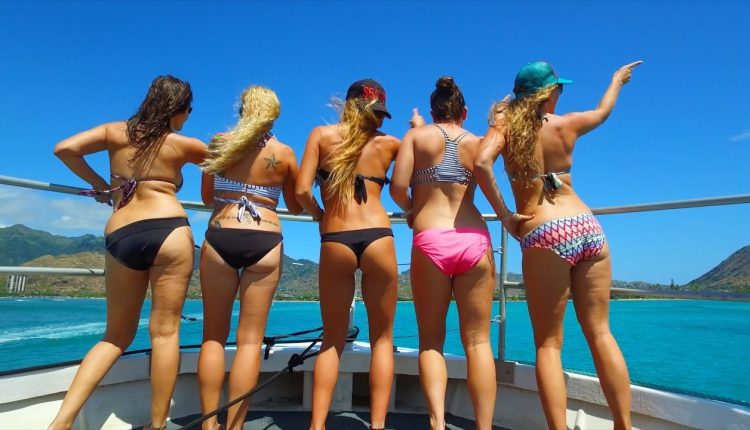 Scuba Dive & Travel the World – DRENCHED Episode. 1


Welcome to our first episode of DRENCHED! Seriously, thank you so much for watching. In this episode, we introduce ourselves a little bit, pack up our ridiculous amount of dive and camera gear, then hop on a plane and head over to the oh so beautiful island of Oahu in Hawaii.
Once we arrive we don't waste any time getting in the water. We go out for a day of diving with Island Divers where we start the day off with a wreck called LCU, short for landing craft utility. The LCU has been underwater for about 20 years and sits in 80 feet of water. It was sunk purposefully to become an artificial reef and create new habitat for sea critters. This dive treats us to some great marine life including tiny nudibranchs, spotted eagle rays, turtles, and some old boots!
Then we hop back on the boat and head over to a site called Sea Caves which is located just around the corner from Oahu's famous Hanauma Bay. We jump in and swim straight over to a wall where we enter into a lava tube that opens up into a massive underwater cavern. Here we come across tons of awesome critters including more sharks and turtles, devil's scorpionfish, more nudibranchs, and a wire coral goby just to name a few. This dive blew us away!!!
With our first day of diving complete, we thought it would be fun to hike up to the top of the crater at Diamond Head State Monument. A big outrigger paddle race was about to cross the finish line in Waikiki, and Diamond Head made the perfect lookout point to scope out all the action. After an awesome but exhausting day, we head to the beach by our house for a killer sunset.
If you love scuba, travel, adventure, exploration, conservation, and all things aquatic, we really hope you will follow us on our journey.
Our goal in making these videos is to show the world all the amazing, beautiful, and strange inhabitants of the ocean in the hopes that we will all be inspired to protect it. Don't miss next weeks episode where we dive some of the best wrecks in Oahu and get into some shenanigans on the streets of downtown Waikiki.
If you liked our video, keep watching them!
Subscribe!
Thumbs Up!
Let us know what you think in the comments!
Share us with all your favorite mermaids and mermen in your life!
Visit our website www.DrenchedDivers.com to learn more about us, our mission, and how you can be our dive buddy!
Support us on Patreon:
Special thanks to Island Divers for hosting us, you are so amazing and we LOVED diving with you! Thanks Matt, Shelia, Lauren, and the rest of the gang 🙂
Cameras we use:
Aerials: DJI Inspire Pro with Zenmuse X5 Camera
On Land: Sony AX-53 and DJI Osmo and GoPro Hero 3
Underwater: Sony RX-100 in Nauticam Housing
Underwater Lighting: Keldan 8x Video Lights, Sola 2500 Video Light, Sea Dragon Video Light by Sea Life
Music Credits:
Perséphone – Retro Funky (SUNDANCE remix) by Sundance
Cadence Kid – Whistling Your Name
www.youtube.com/watch?v=-elf_… provided by CopyrightFreeNetwork
Ichor by Mactley
Jingle Punks – Don't Hate Me
youtu.be/dUTtoKuTl-M provided by CopyrightFreeNetwork
Tropical Sensation by Break Buddy
Music Provided by NoCopyrightSounds:
Kontinuum- Lost (feat Savoi) youtu.be/c0duqEYVnRc
Kontinuum: facebook.com/savoimusic
Fahey (Chill Acoustic Beat) By Red Shirt Beats
Hope By Extenz