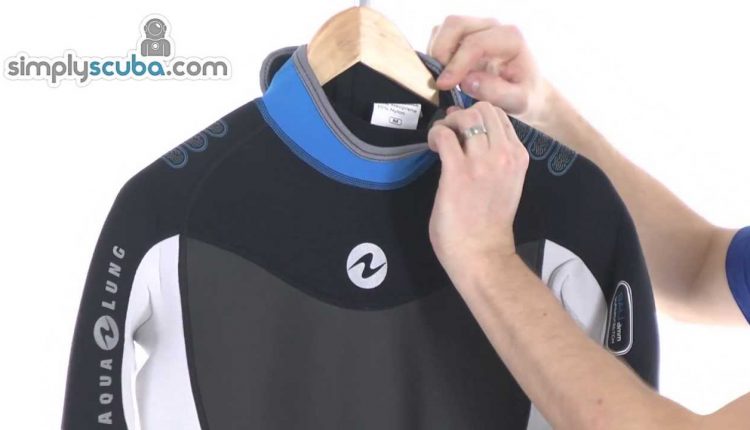 Aqua Lung Bali 3mm Wetsuit – www.simplyscuba.com
The Aqua Lung Bali is a 3mm thick full length wetsuit made using a combination of standard and superstretch neoprenes for a balance between durability, flexibilty and comfort.
The suit is made from a mix of standard and superstretch neoprenes for strength and flexibility in key areas of the suit. The front chest and core body panel is finished with a rubberised coating to reduce the wind chill effect whilst the suit is wet. The arms, shoulders, down the side of the body and lower back panels are made from a superstretch neoprene for much better flexibility in these high movement areas.
The shoulders, wrists and lower back are coated with a high friction pattern. The shoulder section is to help prevent BCD straps from moving, the wrists to keep dive computers in place and the back to grip BCD backpads. The rear lower leg also feature a reflective pattern for visibility. The knee are covered with highly resistant abrasion protection pads to significantly improve the life of the neoprene in these high wear areas.
The rear central zip has a long pull cord and a grab tag at the bottom for easy self donning and removal. A large internal baffle helps tp prevent water seeping in through the zip teeth and a magnet neck closure helps to prolong the life of the neoprene lining by eliminating the need for velcro that can catch and pucker the outer lining.
The Bali is fitted with glideskin looped wrist and ankle seals for a much more comfort fit and improved seal. The neck is finished with a rolled edge for a soft feel that also prevents the neoprene linings from fraying. An internal secondary seal at the fron of the neck helps to reduce water flushing into the suit when moving the head and neck by maintaining the seal.

Rating: 5.00