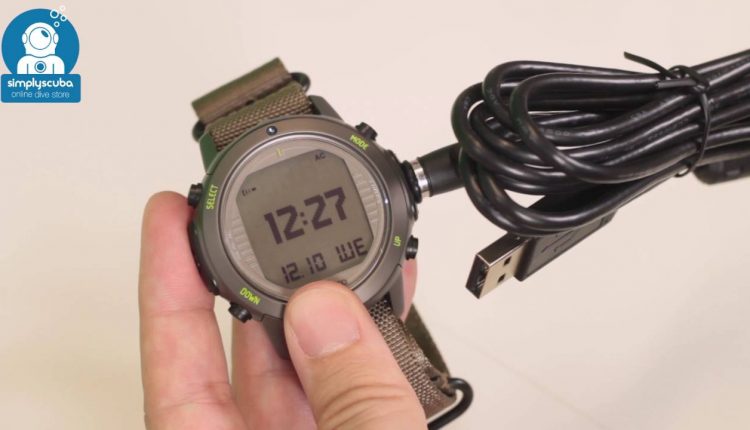 Suunto D6i Zulu Dive Computer – www.simplyscuba.com
The Suunto D6i Zulu Dive Computer is a tough active version of the D6i Novo with a webbing Zulu style straps. Sleek and smart, you can wear this to the office and then straight to the dive site. If you dive on Air, Nitrox or simply Freedive the D6i will tell you everything you need to know with a simple user interface and easy to read screen.
Tough
The steel case has a new anti fingerprint coating which reduces dirt and grease stains on the unit. Sapphire crystal glass has an anti reflective coating to reduce glare and is rated as the hardest glass material in the world. The webbing Zulu strap has a quick adjustment that will fit over your wrist, 7mm or drysuit with tough material and a reliable buckle will hold your computer where you need it.
5 Modes
Dive mode is your everyday dive mode that uses a continuous RGBM algorithm to calculate your No Decompression Limit on normal air. Nitrox mode allows you to change your Oxygen percentage when diving on Nitrox. Gauge mode makes the computer act purely as a depth gauge and timer and won't work out your NDL. Free mode is for snorkelers and freedivers with a more frequent sampling rate and a surface timer. Off mode is for everyday use so the computer doesn't record your swim in the pool as a dive.
Wireless Air Pressure
Paired with a wireless transmitter on your 1st stage the D6i Novo will tell you how much gas you have left in your cylinder. The D6i Novo can combine this with your current depth and breathing rate to tell you how long your air will last in minutes so you can better plan your dive on your gas supply. You can also set up alerts when you get to a certain pressure so you don't have to keep as closer eye on your gauges.
Features
5 modes including freediving
Gas-switching between up to 3 gases
3D compass, optional wireless air integration
Suunto RGBM
Steel case and sapphire crystal glass with antireflective coating
Full continuous decompression algorithm – Suunto RGBM
Gas-switching between up to three gases
Five modes: air, nitrox, gauge, free and off
Innovative apnea timer, and a timer in air/nitrox modes
Integrated tilt-compensated 3D digital compass
Updateable firmware
Optional wireless air integration – current cylinder pressure, remaining air time
Built-in dive planner
Detailed graphical logs and dive data on your PC/Mac using Suunto DM5 software
Specification
Measurements 45.6 x 48.5 x 15.9 mm
Weight 137 g
Bezel material: Stainless steel
Glass material: Sapphire crystal
Case material: Steel
Strap material: Textile material
To browse our huge range of top brand Scuba gear and equipment for all ages, with fast shipping and 28 day returns, visit
For more helpful product videos plus expert scuba diving advice, head to

Rating: 4.60